Luminary™ Nail System ALL YOU NEED TO KNOW about LUMINARY™
Luminary Nail System Q & A's
What Is Multi-Flex Gel?
Luminary's Multi-Flex Gel is a soft gel with the strength of acrylic and flexibility of hard gel that has real staying power. It is a universal base product, builder gel, overlay gel, and extension gel, meaning you need one product to create a beautiful structured manicure, cutting down on time and money spent on multiple products. Because of Multi-Flex's semi-hard formula, it can be soaked off or backfilled, giving nail tech's all the flexibility they need in one product. Beyond all of that, Multi-Flex lasts 2-3x as long as other products.
Why Will My Clients Want Luminary?
Our gel is a self-leveling and medium viscosity, meaning it is both easy to apply and effortless to create a beautiful apex.  Even better, it can be used by both techs who e-file and who hand-file. Multi-Flex gel adds value to your service menu - it lasts 2-3x as long as other gel products, meaning that you can space clients out further, add more clients to your books and charge more per service (the typical up-charge reported to us by techs is $10). There is no lifting or chipping with proper application, and the product never has to be removed (simply fill or rebalance the nail). Our product also saves time and cuts down on expenses - if your client loves the colour, you've saved the time you would have spent applying gel polish. It is a universal base coat, builder gel, overlay gel, and extension gel all in one, making it a truly versatile product! Multi-Flex can be used for overlays, manicures, structured manicures, can be used to create extensions, performs well over tips and full coverage gel tips, works great with forms, can be used to adhere gems or crystals - the possibilities are truly endless!
Recommended Application Method
You can watch this entire process on our YouTube Channel, where Luminary Founder Kelly VanDahl, Master Educator Tara Robinson and special guests teach you all you need to know! 
1. Prep the nail properly (perform cuticle work, file down product, etc.) 
2. Apply a coat of "Commit" Primer if you are planning on filing down and filling. If you plan on soaking off at the next service, you can apply Commit to the free edge or not at all, your choice. This gel has great adhesion on its own, but each client has individual needs, so experimentation may be necessary if you do not want to use primer.
3. Apply a thin base layer of Multi-Flex and cure for 60 sec. LED (2 Min UV)
4. Apply a thin layer of Multi-Flex. Do not cure.
5. Grab a bead of gel. (we recommend using a jar along with your 10ml to make this easier. You can buy them empty. Do NOT apply too thick.
6. Float the product onto the nail, letting it melt into the layer you just laid down. Grab more product with your brush as needed. You could also do a few thin layers. 
7. Turn your clients hand upside down, let the gel self level into a perfect arch (move with a detail brush as necessary)
8. Turn the hand back over, let the gel settle, check your line of light, and then immediately have their hand go flat into the light for the PULSE setting followed by a full 60 sec. LED cure (120sec UV, 120s. gradual cure) Multi-Flex cures best in our PULSE. While other high quality lights on the market may work just fine, we only officially support and recommend the PULSE as it was designed with our product in mind. Please replace your LED curing light every year or as needed by proper testing, see HERE. 
9. Apply gel polish (see our gel polish tab for more info)
10. Apply Empower No Wipe Top Coat (60 sec. LED) Now, if you feel the need to finish file after you've applied Multi-Flex, you can do so. You'll need to cleanse the nail with 99% isopropyl alcohol beforehand and after to remove dust before top coat or gel polish. If you do remove the inhibition/sticky/tacky layer to finish file, be careful with hybrid polishes like OPI or Shellac. You'll want to replace this by doing a very very thin layer of Multi-Flex, then curing, OR you can do a layer of Commit (don't cure) then apply the hybrid gel.
*Make sure to wear gloves while doing any chemical nail service*
Applying to Short Nails w/ Master Educator Tara Robinson 
Applying to Long Nails w/ Luminary Founder Kelly VanDahl 
What Is The Difference Between The Product In The Jar And Bottle?
There is no difference in product in the jar and product in the bottle. Multi-Flex Gel comes in 10ml polish bottles, 30ml refills, and in 5gram jars. Jars can be purchased empty on their own, in Color Bundles, and in Diamond Pro Kits, or full in Starter Kits.
What Curing Lamp Should I Use?
We strongly suggest that you consider using our LED Light, PULSE.  
As a nail professional, it is of utmost importance that you use professional grade products. Not only for the reputation of your business but for the health and safety of your clients. We understand that there are cheaper alternatives available on the market but the number 1 cause of allergies in our industry today is improper curing and that most often comes from poor quality lights with inconsistent power. As a company that cares we ask that you only use a professional quality lamp that has scientifically tested bulbs. Please test your LED light every 3 months to ensure a proper cure, see HERE
LED Lights | Why are they so important?
PURCHASE Pulse by Luminary HERE
Can I Do Gel Manicures, Overlay And Use With Tips?
Multi-Flex Gel can be used for manicures or gel overlays, and performs beautifully with tips, forms and full coverage gel tips. It also can be used to adhere gems, crystals and other decorative accents for months. If you're using Clarity to secure your nail accents, rest assured they will not be coming off our clients' nails until you take them off!
Do I have to Use A Primer
No, however, if you are doing a soak-off gel manicure we at least recommend you used our primer "Commit" to the tips and free edge of the nail. Something to keep in mind is that every single client is different. Some may need a primer, while others may not depending on their body chemistry. If you are using Multi-Flex as an enhancement and would like to fill your clients, then you will need to use Commit. We recommend 2 coats of Commit before gel application for enhancements. If your client tends to lift, then you can do two coats of Commit and cure the second layer of primer for a few seconds to warm it up. This will make it tackier and will adhere the gel to the product better, reducing changes of them lifting.
Can I Use Gel Polish?
Luminary is a pure gel product, so while you can absolutely use gel polishes over our product, it is recommended that you use pure gels instead of hybrid products. Pure gels (Kokoist, Light Elegance, or Akzentz Luxio) perform best, but there are some workarounds with hybrid gel polishes like OPI and Shellac.
Now, if you feel the need to finish file after you've applied Multi-Flex, you can do so. You'll need to cleanse the nail with alcohol beforehand and after to remove dust before top coat or gel polish. If you do remove the inhibition/sticky/tacky layer to finish file, be careful with hybrid polishes like OPI or Shellac. You'll want to replace this by doing a very, very thin layer of Multi-Flex, then curing, OR you can do a layer of Commit (don't cure) then apply the hybrid gel. These tricks may not always work and we do not guarantee these gels will work with Luminary.
Applying Pure Gel Polish
1. Follow application steps in the Recommended Application Method tab
2. When you get to your gel polish step, you do not need to wipe the dispersion/inhibition/tacky layer but you can. Pure gels adhere with or without that tacky layer. EXCEPT for Akzentz Luxio. If you are using Luxio, you do need to cleanse the nail with alcohol before applying.
Applying Hybrid Gel Polish
1. Follow application steps in the Recommended Application Method tab
2. When you get to your gel polish step, do not wipe the dispersion/inhibition/tacky layer. Hybrid gels need help adhering, otherwise, they will separate. If you cleanse the nail, you'll want to replace the tacky layer by doing a very, very thin layer of Multi-Flex, then curing, OR you can do a layer of Commit (don't cure) then apply the hybrid gel. But your best option is using the base coat that goes with the system you're applying before applying the color so it has a better chance of not changing colour.
My Gel Polishes Are Discolouring over Luminary - why?
First, Luminary's Multi-Flex is a pure gel product so if you are using OPI, Shellac, or Gelish hybrid polishes (just a few hybrid brands for example) it is possible you can experience discoloration if you do not take the proper application steps.
Continuing with OPI as our hybrid brand example, we recommend using Clarity with light colored hybrids especially. After curing Luminary's base, do not wipe the dispersion layer after curing. If you need to file, then you need to get that tacky layer back by either applying a very thin coat of Luminary and curing or applying a coat of Commit primer before gel polish. Then, apply your gel polish. The most important step here is to use a top coat that is compatible with hybrid gel polishes. Luminary's Empower Top Coat is intended for pure gel products like Luminary, not for solvent based hybrids. We recommend sticking with the Top Coat that the manufacturer of your hybrid gel recommends.
If the above does not work for you, we recommend a thin layer of the same brand base as the gel polish over Luminary. From there, proceed with the gel polish and top coat.
Technical Explanation:
1. Photobleaching: Red pigments are more susceptible to absorbing high energy light (like blue light to UV light wavelengths) which can erode the pigment. This is very common during summer months when clients are spending more time in the sun. ⁠
2. Chemical induced bleaching: Some pigments like red are more sensitive to daily chemical exposure like washing your hands, household cleaning, laundry detergents, chlorine from pools, etc. ⁠
3. Heat and humidity: When combined with one of the above situations, heat and humidity can accelerate this bleaching effect. ⁠
Remember that UV exposure comes from your lamp too so if you're overcuring or using a different brand of lamp it could start the photo bleaching process. Chemical induced degradation can also be from acids and solvents in the primer, base, top coat, gel, etc. So if you're mixing and matching brands of products in a single service keep that in mind. You could be introducing an ingredient that is causing this issue and manufacturer did not formulate their color to withstand other brands. Mixing and matching does have some important consequences that we as techs and users need to take accountability for.
Transitioning to Luminary From Acrylic/Hard Gel
It is super simple to transition your clients from hard gel or acrylic to Luminary! 
Transitioning:
1. Remove the acrylic or hard gel completely.
2. Prep the nail & cuticles
3. Apply Commit
4. Apply Luminary!
Filling over Acrylic/Hard Gel:
1. File down the product & blend the product to the natural nail with a sanding band or similar.
2. Perform your cuticle work and prep.
3. Two coats of Commit Primer.
For details on applying Luminary, please refer to the Recommended Product Application tab
Heat Spikes: How To Prevent and Explain
Heat spikes, in a nutshell, are an exothermic reaction created by the gel hardening under the curing lamp and are experienced with most hard and building gels. They are normal and do not occur with every client; they tend to vary based on that clients' unique body chemistry.
Heat spikes can be explained to clients as the reaction created by the lamp when it cures and hardens the gel product. They can be greatly minimized by using our light, PULSE with our exclusive light control technology to virtually eliminate the heat spike. 
How To Prevent Lifting & Chipping
The best way to prevent Multi-Flex from lifting and chipping is by applying Commit before application and make sure your application is thick enough as well as properly balanced. If your client is a known lifter, you can apply two coats and warm the second layer up in your curing lamp (cure for 5-10 seconds). This will make the primer tackier and helps gel adhere better.
Next, file the free edge after you apply the gel. Filing after instead of before not only prevents you from doing a ton of filing, but makes the nails much stronger. If you need to do significant reshaping or take down a lot of the length, then obviously do some filing before. Otherwise, file and take down length AFTER you've applied the gel. Then, the key to preventing lifting and taking down thickness is to bevel the free edge. You'll take a file and file at a 45 degree angle to blend together the free edge and the product, strengthening the nails.
Above all, a professional grade lamp is essential for properly curing product.  
Is This Product Good For Nail Biters?
Many nail techs use Luminary to rehab clients' who come to them with short, bitten nails, or nails that have been damaged by other techs using careless techniques and cheap, poor quality product. Our product has been proven to help kick this habit!
Should I Upcharge When Using Luminary? 
Upcharging is a personal choice, but we firmly believe the answer is absolutely! You will notice a dramatic difference with our product and other gel brands. Multi-Flex gel has numerous benefits you can sell to your clients.
1. As strong as hard gel, so nails can be grown out naturally without any breaks!
2. Lasts twice as long as traditional gel manicure systems
3. No chipping! Because it's a base and color in one, gel polish won't chip
Vegan/Cruelty Free?
All of our products are Vegan, Cruelty Free, and 5 Free. We also do not sell product in China, which means that we do not adhere to their animal testing requirements.
Matte Top Coat & Empower No Wipe Troubleshooting
If you are seeing streaks or brush strokes on matte nails, be sure to float the top coat on. Otherwise, you could experience some inconsistencies in appearance. Demonstrated here. You can skip ahead to 7:00.00 in the video to see Kelly explaining the matte.
If you are seeing streaks in your Empower No Wipe Top Coat, the nails are too hot when you apply the top coat. You can wipe the nails with alcohol to cool them down before top coat, or wait for them to cool down before top coat.Also please note that both Empower top coats are meant for Luminary Multi-Flex Gels and cannot be guaranteed to work with any brand of color. 
Gel Removal
One of the best parts about our Multi-Flex Gel is that it can be filed and filled, or soaked off completely. 
E-File Removal:
1. Remove top coat, gel polish, and the bulk of the base gel using our Black Diamond Carbide Bit. 
2. Remove shine from the natural nail and smooth out remaining product using a sanding band or cross-cut diamond barrel bit.
3. Re-apply using Recommended Application Method - or whatever works for you!
Soak Off Removal:
1. Remove the top coat, gel polish, and as much base gel as possible using our Black Diamond Carbide Bit or hand file.
2. Saturate a piece of a cotton round with 100% acetone, place over the nail, and wrap with foil.
3. Allow the acetone to do the work for you - this can take 10-20 min depending on the amount of product you left on the nail prior to soaking with acetone. 
4. Once the product is lifting and looks ready to be scraped off, grab our Cuticle Pusher and remove the gel from the nail. Take care to be gentle, but firm, and if the gel doesn't want to come off, put the acetone wrap back on the nail.
5. Prep and reapply, or you're all done!
You can watch how to remove Luminary Multi-Flex Gel in this video from our YouTube channel.
Shelf Life
Our Multi-Flex Gels Are Meant For Professionals And Should Be Used On A Regular/Consistent Basis. 
Keep Your Products Stored In A Dark Cabinet When Not In Use. 
Optimal Storage Temperature Is Between 65-75 Degrees And That Temp Should Be Kept Consistent And Without Much Fluctuation.
With The Above Conditions Met Your Multi-Flex Gels Should Last Close To 1 Year From The Time Of Purchase
Why Is My Gel Separating?
Allergies
Q: What causes allergic reactions?
A: There are a few things that cause allergies from any nail product.
     -Contact dermatitis. Do your best not to bring any raw/uncured product in contact with the skin, keep it on the nail plate. 
     -Improper curing. Please read our Blog HERE and make sure you test your light every 3 months for proper curing. See HERE
     -Client is sensitive and for some unknown reason just reacts to certain ingredients. 
Q: What do allergies look like?
A: It can be anything from a slight itching or redness, dry irritated skin or little blisters as well as onycholysis.
Q: If my client experiences allergies what should I do?
A: 
     -Cease use of all products
     -Allow skin/nail irritation to subside. Probably a week or 2 with nothing applied to the nails.
Q: Can I re-apply once they are healed?
A: Yes but follow the instructions below:
     -Test on 1 nail and allow your client to go home if nothing occurs right away. If they develop irritation right away, remove the product immediately.
     -If they seem good after a week go ahead and reapply. If they had a reaction you will most likely have to find a different product to use on them.
How To Care For My Luminary Detail Brushes?
---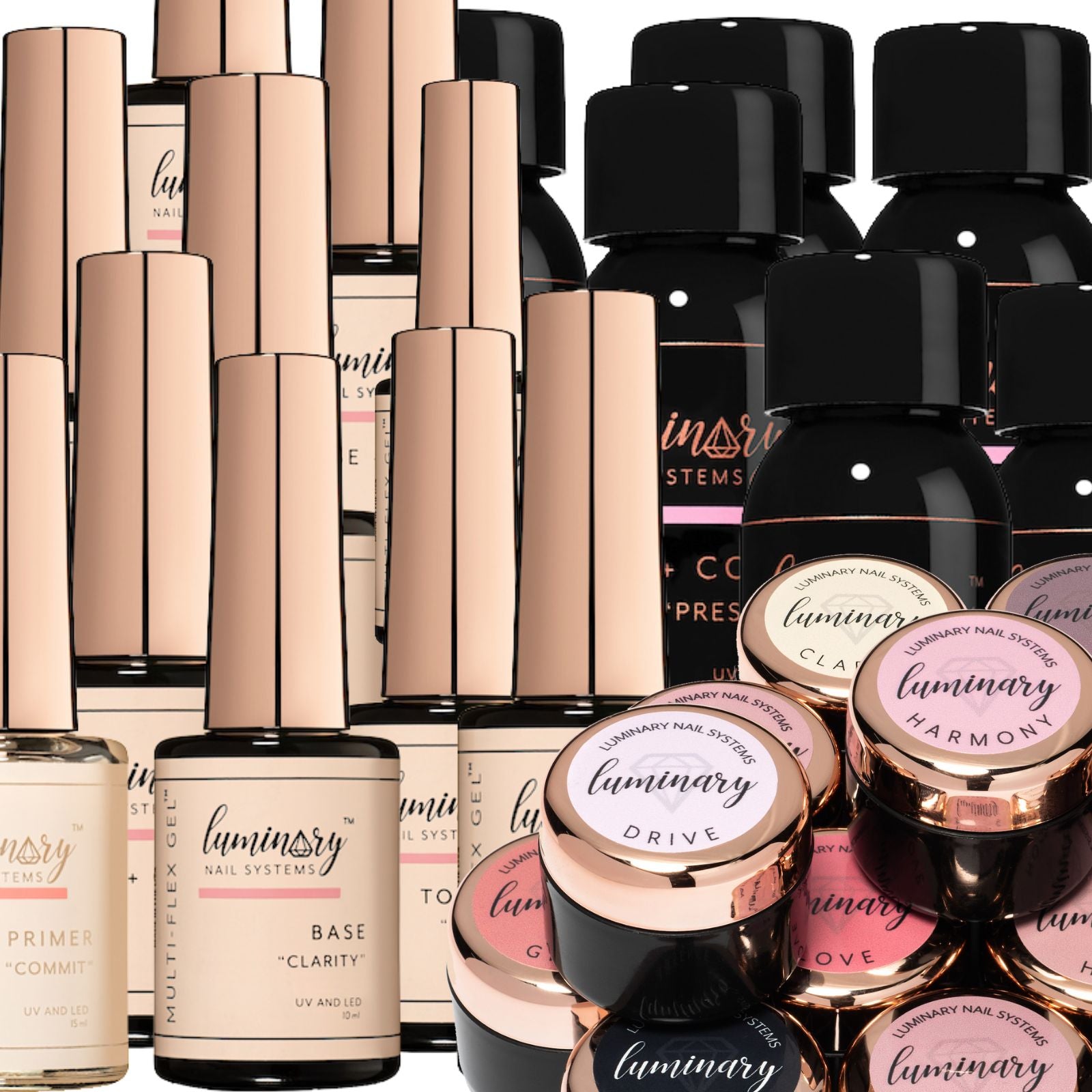 Large image with text box
Pair large text with a full-width image to draw attention to an important detail of your brand or product line.
Use this text to answer questions in as much detail as possible for your customers.
Use this text to answer questions in as much detail as possible for your customers.